A long term relationship aimed to maximize the return on your investment
Buying a system from us is not really to buy a product. It is to buy a solution and a partnership. Each system includes support, service, training and knowledge built on more than 70 years of experience. We are there for you whether it is about solving problems, adapting your system to new conditions or to increase the capacity of it. Regardless of where in the world you are.
In other words, buying a system from us is to start a long term relationship aimed to maximize the return on your investment.
Efficiency
Due to less need for manual handling, improved lead times, improved ergonomics and substantially shorter though-put time, improvement in efficiency varies between 30-100%. This makes Eton systems one of the most valuable investments for global enterprises.
For more than 40 years Eton systems has improved production efficiency in various types of industries, all around the world. More than 4000 systems have been installed at the plants of big and small prestige customers in more than 60 countries in Europe, USA, South America and Asia.
Increased efficiency in different countries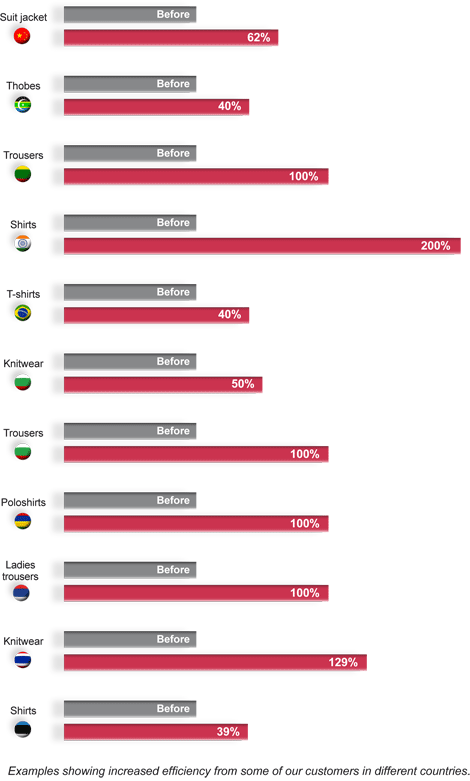 Yearly savings in operation cost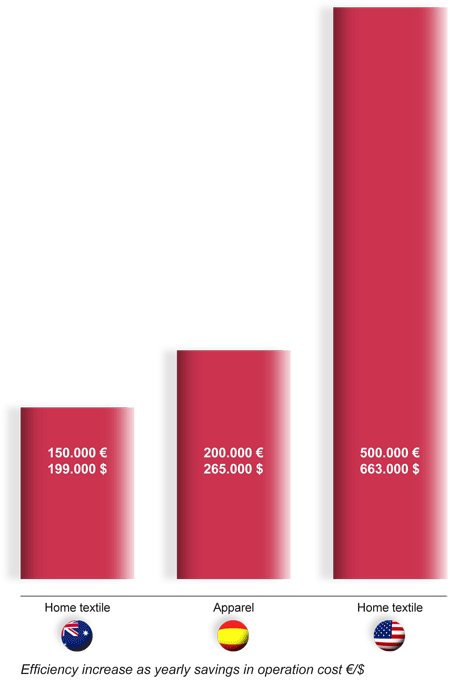 Flexibility
One size never really fits all and one solution does not fit all situations. No one understands this as well as we in the industry itself. That is why at ETON Systems, we do not think in terms of one-size-fits-all, we think in terms of custom-made solutions matched to specific customer needs. Our systems provide industrial efficiency, perfectly suited to individual customer's operations, requirements, and conditions.
Fast ROI
Enhancing production efficiency will not only have a substantial impact on profitability and improving cost efficiency. Also, our customers normally reach return on their investment within 1-3 years, depending on the art and complexity of their manufacturing. Due to this Eton system is ranked as the "Number one apparel investment" by a Major University with a payback on implementation from 12-30 months on systems that will continue to produce and be profitable for the next 20-30 years.
The human aspect
The ETON chain provides ergonomic benefits that directly translate less fatigued operators and improved productivity. A smooth and consistent rhythm is achieved, providing improvements in both quality and efficiency. Experience shows that repetitive-motion injuries caused by bending, stretching, and reaching, so common in the industry, have been practically eliminated – unprecedented control all around! in workplaces where ETON UPS's have been installed.
Global consultancy service
Let Eton help identify your bottlenecks and dimension your production process based on your customer demands!

This is a new service developed for new as well as old customers. It includes a thorough review of your manufacturing process with the aim to optimize production and profitability. This means, among other things to identify and eliminate bottlenecks, carry out time studies of certain processes, to streamline workflow, improve quality control and to train and educate personnel where needed.
Global experience
Today, our systems are installed and running in 60 countries around the world. That has given us more than 40 years experience of manufacturing industries in continents like Africa, Asia, Europe, North- and South America. We have acquired great knowledge in different countrie´s varying requirements and conditions and we can quickly present solutions meeting the customers' specific needs as well as the local conditions.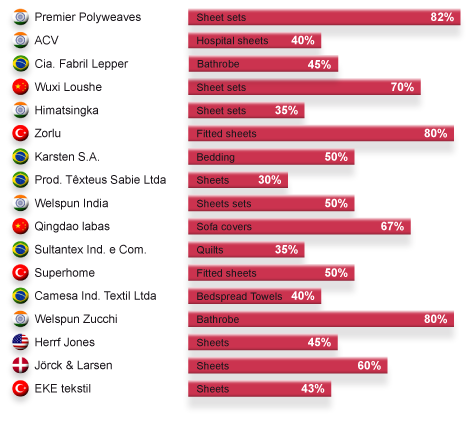 Graph showing customers in the home textile industry and increase in their production. Average 47%.