Manufacturing of components for the automotive industry
---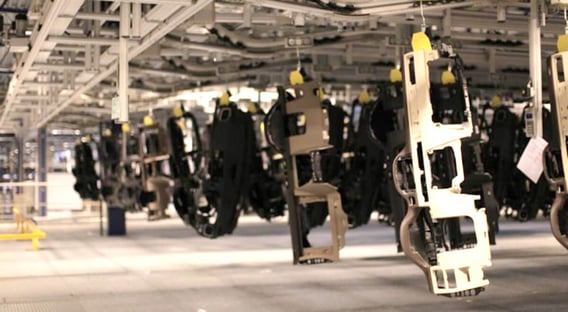 The Eton system for the automotive industry is a flexible system designed to eliminate manual transportation and minimise manual handling.
A productivity boosting concept
The Eton Systems concept enables you to utilize your resources better in several ways, including:
Better use of space.
Time.
Personnel.
Possibilities.
Advantages.
Control.
Machinery.
Capacity.
Facilities.
Flexibility.
Potential.
Technically the system consists of overhead conveyors with individually addressable product carriers, automatically finding its way to the correct operation. It is monitored by the Eton Systems software, providing all necessary data for measuring and managing the process optimally.
The system delivers information on the production process, as well as inventory levels, in real time. This increases productivity radically, ensures an optimal working flow and provides time for adding value to your products.
Furthermore, the system is highly flexible and can rapidly be modified to changes in the production line or the need for expansion.
Loading and transportation
Loading and transportation of dashboards.
The Eton system transports all the pieces of one complete product, such as dashboards, through the manufacturing process.
An addressable product carrier takes all the pieces of one entire unit through the different steps of production. Operations are performed at individual workstations.
The end result is a cost-efficient product, processed from pieces to completion.
Registration and loading of all the parts or pieces can be made directly from machinery.
The product carrier, with the parts/pieces, will be routed through the different operation steps.
At every machine/operation the patented Eton chain will position the product ideally.
The carrier takes them on to assembly, packing, or buffering.
Up on completion the complete product arrives to an unloading station.
The empty product carrier returns to the loading station.
Valuable floor space has been saved and it reduces the number of staff.
Decreased work in process (WIP), improved space utilization, and increased productivity are but a few of the systems benefits.
Buffering
The Eton system can be used for transportation and organisation, as well as for buffering your product. The system is designed to fit into existing roof space. In that way you will have an overhead buffer, which frees a lot of space on the floor.
Since the product have been scanned and registered it is automatically stored at the right place by the system. When it is time to finalize the product for an order, the right article is delivered to the the final workstation, where it is completed and made ready for dispatch.
All this with almost no manual handling.
Return on investment
Due to less need for manual handling, improved lead times, improved ergonomics and substantially shorter though-put time, improvement in efficiency varies between 30-100%. This makes the Eton system one of the most a valuable investments for global enterprises.
Enhancing production efficiency will not only have a substantial impact on profitability and improving cost efficiency. Also, our customers normally reach return on their investment within 9-24 months, depending on the art and complexity of their manufacturing.
A flexible productivity concept
One size never really fits all and one solution does not fit all situations. No one understands this as well as we in the industry itself. That is why at Eton Systems, we do not think in terms of one-size-fits-all, we think in terms of custom-made solutions matched to specific customer needs. Our systems provide efficient solutions, perfectly suited to individual customer's operations, requirements, and conditions.
The Eton system is a totally flexible modular system. This makes it easy to change, expand and adapt to different kind of buildings and manufacturing processes. Adding additional workstations and/or buffer zones, is easy. The flexibility makes it ideal for step by step implementation today or for companies that want to be prepared for rapid expansion tomorrow.
Our Flexible Productivity Concept (FPC) is based on two system platforms, provides an array of flexible system tools that allows the Unit Production System to be optimized for utmost customer profitability. With every Eton Systems workstation comes the unique Eton chain. FPC components offer a wide range of options, including:
Multiple rails for sorting at workstations.
Automatic loading devices, pick-ups and work delivery robots.
Bridges and elevators that link systems and floors.
History link to product after completion.
Module based software.
Profitability & reliability
At Eton Systems it is a well known fact that reliability is a key factor. Products and services provided by Eton Systems are always top of the line, such as systems with minimum downtime, local support for easy and quick response and the latest training programs available in the market.
With a very active R&D department and knowledge from more than 4000 system installations in more than 60 countries it is safe to say that Eton Systems is a partner you can rely on.
When selecting the most profitable UPS investment, the essentials are:
Reliability – downtime costs money – invest in good quality.
Training – good training on every level is the key to a successful implementation.
Support & future upgrades – select a reliable supplier with a track record of constantly improving products and supporting their customers.
Flexibility – protect your investment by choosing a supplier with a modular approach that will allow your system to grow as your business grows. Do not get boxed in.
Overall – invest in a system that will maximize your productivity and fit your needs today as well as tomorrow regardless of the direction your business, customers or products take.
The human aspect
We realize that any successful production or manufacturing process relies heavily on ergonomics and usability. That is why we put a great deal of emphasis on the human factor when implementing any Eton UPS solution, such as including extensive training for all employees that will be using the system.
A common statement within our worldwide user base is that the system allows them to utilize their existing recourses in a much better way. And the Eton Systems chain provides ergonomic benefits that translates directly into in less fatigued operators and improved productivity.
A safer and more effective workplace
In addition, the Eton UPS method of transporting products on a suspended system keeps the factory floor clear and the workstations themselves free of everything, but the material specifically needed to carry out a particular operation. And since component pieces are brought directly to the machine and are then sent on automatically, the work process is ergonomically optimized. A smooth and consistent rhythm is achieved, providing improvements in both quality and efficiency.
Experience shows that repetitive-motion injuries caused by bending, stretching, and reaching, so common in the industry, have been practically eliminated – unprecedented control all around in workplaces where the Eton system have been installed.
The Eton Systems handling methods are based on ergonomics, which is a key element in the design of the Eton system. Pain and injuries to shoulders, back and neck are common in this industry.
With the Eton system, products can be positioned as close as one centimetre from the desired point. All the tiring reaching, bending, lifting and pulling of bundles and work-in-process is completely eliminated.
As a result, the operators experience less fatigue, fewer injuries, and less absenteeism. Results which benefit both the operator and the employer:
More job satisfaction, higher skills levels and therefore higher earnings for the operator. Higher attendance, increased turnover, more productivity, reduced training costs and lower medical expenses for the employer.
Interested in what Eton Systems can do for your production line? Schedule a consultation with our team!